TPH Alum has Sights Set for the NHL
CAN PAUL MCAVOY BECOME KENTUCKY'S FIRST NHL PLAYER?
Kentucky has been home to minor-league ice hockey teams, and the sport has a growing club presence around the Bluegrass State.
Still, it's one of 10 states including Arkansas, Hawaii, Kansas, Louisiana, Nevada, New Mexico, South Dakota, Tennessee and Wyoming believed not to have ever produced an NHL player.
Photo: Surrey Eagles
Paul McAvoy, an incoming freshman for the Division I Colgate University hockey team in Hamilton, NY, would love to be the player to end the drought in his home state.
"I'm trying to show that my roots from Kentucky are not by accident or by chance, that Kentucky is what molded me into a hockey player," said McAvoy, a 20-year-old Richmond, Kentucky., native. "That's what I would want to get across to the country if I had a chance to play at a higher level than I am now."
Though hockey has led him around North America, it was in Kentucky that he fell in love with the game.
"When I was around 5 years old we had the Kentucky Thoroughblades for like a year or two – the AHL team – and my dad took me to a game and I loved it," McAvoy said. "It sparked my interest right away."
So instead of a basketball, he opted for a stick and skates, carrying on his father's love for hockey at the Lexington Ice and Recreation Center by playing for a local youth team called the Lexington Lightning.
It wasn't long before McAvoy and his parents could see that he was talented on the ice. He played as much as he could at the rinks in Lexington and Louisville, however, limited practice time and lower-level competition prevented McAvoy from growing his game once he reached his teens.
After gaining attention from TPH Thunder AAA, an elite-level all-star team, during his last year playing for the Louisville Stallions, McAvoy left Richmond at age 13 to move to Huntsville, Alabama. It was the biggest commitment he had ever made because he had to leave behind his family and also embrace the lofty expectations of a program known for developing NCAA-caliber players. TPH Thunder boasts 51 NCAA commitments on its website.
"I missed my family a lot, that was No. 1," McAvoy said. "It was a tough transition for me — being 13 and all. I ended up moving home halfway through the season because I was homesick, but it was a nice thing for that team to have players from all over the Southeast because I could still live (in Kentucky) and play for them."
From there, his nomadic lifestyle would begin. Ever since, McAvoy has lived in Cleveland, Ohio; Dallas, Texas; Hamden, Conn.; Surrey, British Columbia; and now Hamilton, NY. At each stop, he stayed with a host family, known as a billet family.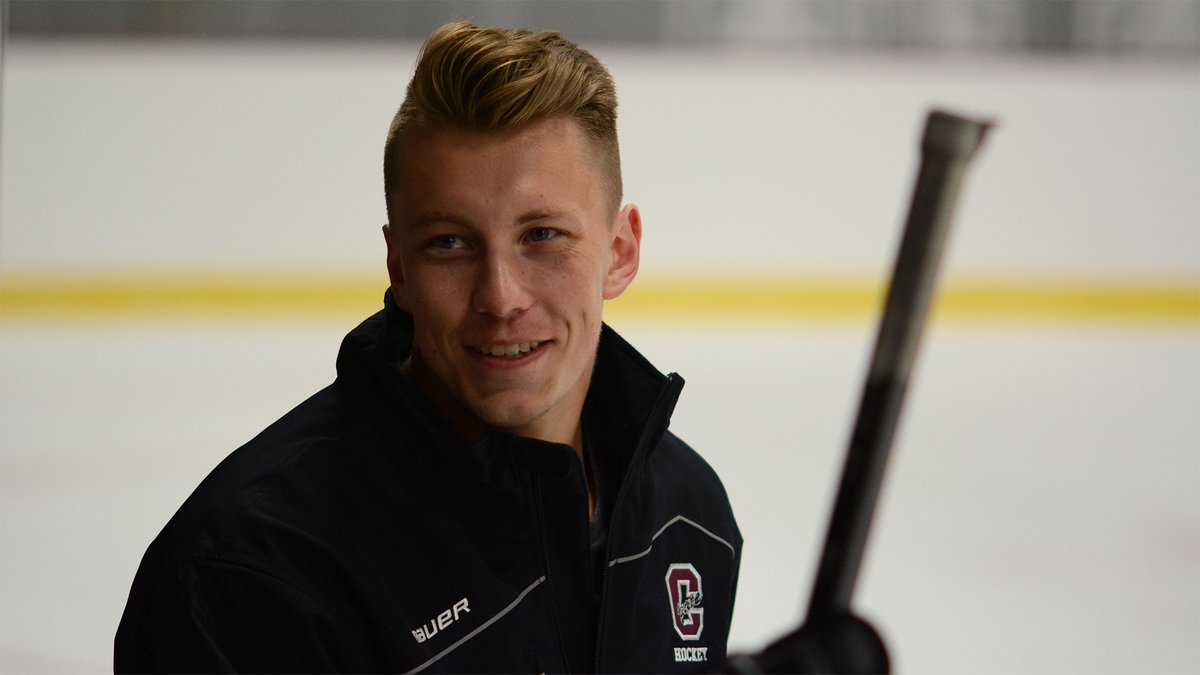 Photo: Colgate Men's Hockey Twitter (@Colgate_Hockey)
"After the first year in Alabama I got used to it," McAvoy said. "The billet families are so important in that process of easing you into your new environment, and teammates help, but every year was a struggle at first to get acclimated to a new place and a new school. … After the first couple of weeks, it's awesome because you get to see a new city and a new place that you wouldn't get to see normally without hockey."
The most noteworthy stops along his journey came after his junior hockey years. Hamden and Surrey are where McAvoy played for the Connecticut Oilers in the Eastern Hockey League and the Surrey Eagles in the British Columbia Hockey League. Those two leagues are widely known as developmental leagues for some of the most talented players in North America and have produced a long list of NHL players. It was there where he began to catch the eye of college hockey coaches.
"It's interesting because my newly hired assistant coach (Juliano Pagliero) knew of Paul from a camp that he worked in Nashville when Paul was probably around 14, but then we lost track of him," Colgate coach Don Vaughan said. "Then he resurfaced again when he was in the EHL in Connecticut. So we were once again aware of him when Pagliero joined our staff, but it wasn't until he got to Surrey that we really zeroed in on him."
McAvoy won the 2014-15 EHL Championship with Connecticut in his lone year with the Oilers. He followed that up with two years in Surrey, tallying 32 goals and 48 assists through 98 games. Along with his statistical contributions, he also served as the Eagles' captain and was named the team's 2015-16 MVP.
"He's a leader," Vaughan said. "He was the captain of Surrey for two years. When you see that in a player … that said a lot to me about the type of person that he is and the kind of kid we want in our program."
There is no doubt his success at the previous levels has raised the expectations from his college coaches for his first season with the Raiders. However, nobody puts more pressure on McAvoy than himself.
"When I first noticed (McAvoy is from Kentucky) was on his recruiting visit with his father," Vaughan said. "It is a fascinating story, and one that I wanted to hear more of. He has the drive to do it and an unbelievable support system at home based on what they had to do to keep Paul in the game. … He's not coming from a traditional hockey area, so I'm sure every time he walked into a new organization people were looking at him funny out of the corner of their eye."
With his NHL aspirations, McAvoy has now become one of Kentucky's best chances to land a player at the highest level of the sport. Even if it takes him a few years after college, he won't give up his dream until he's content with time he's spent around the game.
"I think hockey is one of those things where you have to play until the fun wears out," McAvoy said. "All sports are supposed to be fun, so once the fun stops treating me well, that's the point that I will call it, but I think that's a long time into the future. I'm trying to have fun with every day that I have here at Colgate, and if a professional opportunity comes along it should be even more fun."
Whether he reaches the professional level or not, McAvoy hopes children in Kentucky with interest in hockey will notice his rise in the sport and continue to pursue their dream the same way.
"It's been a long ride, but it's been fun," McAvoy said. "Anybody in Kentucky that's thinking about hockey should know that it's a sport that not only prepares you for high-level athletics, but it's also about life. The lessons you learn growing up, from being mature, to being on your own, to teamwork, to work ethic are incredible."